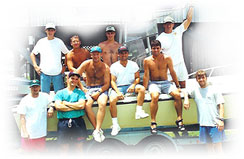 The Redeye Fishing Team was started by a small group of guys who fished during their time off from medical school. Fishing out of aluminum flat bottom type boats for redfish became a passion for the majority of this group. Most of these shallow water anglers owe a sincere amount of gratitude to a local fishing legend, Dr. Bob Wiess. Dr. Weiss showed them where, and how to fish the marsh ponds of Venice, LA for redfish, bass and speckled trout.
Upon graduation, a tournament was set up, the REDEYE CLASSIC, in order to keep this group of friends together and remember the bullshit (both good and bad) of school and training. This tournament, two man teams fishing artificial lures, preceded the redfish tournament scene that is so prevalent today. Simply known as the "classic", the first official REDEYE was held in April of 1997, of which the winning payout was rescinded in order to buy beer for the post tournament party.

The "Classic" has evolved over the years, just like the participants' boats, payouts and lodging. As always, the party after the official weigh-in more than justifies the entry fee, even if you didn't catch any fish (aka Bratton & Karam 2004).

Today, approximately forty anglers are invited each year to the Venice Sportsman's Lodge to fight for the title of "REDEYE CLASSIC Champion" and the always-anticipated green rain jackets. The level of competition gets better each year and many Redeye members fish the various professional redfish circuits, as well. In fact, members, Brig Booth and Jody Morris, won the 2001 IFA Pro Redfish Tour event in Venice out of Brig's "Kentucky Lake" boat with it's continuously running bilge pump.